Top 15 weird and wonderful cruise attractions
Cruises are the ultimate all-inclusive holiday and they're more popular than ever. Last year alone, over 22 million passengers hopped aboard and sailed every one of the seven oceans on ships the size of small towns. So what's the attraction? What isn't the attraction would be an easier question to answer. Cruise holidays aren't just for retirees and the magnificently wealthy these days. Families are the fastest growing market and competition to lure you and your kids on board is furious. Forget deck quoits and sedate sunbathing, cruise lines have everything from aerial cycling to top deck race tracks, Jedi Warrior Tuition, 4D cinemas, submarines, skydiving and on-board festivals that make Lollapalooza look like a tea dance. So what would tempt you to take to the high seas?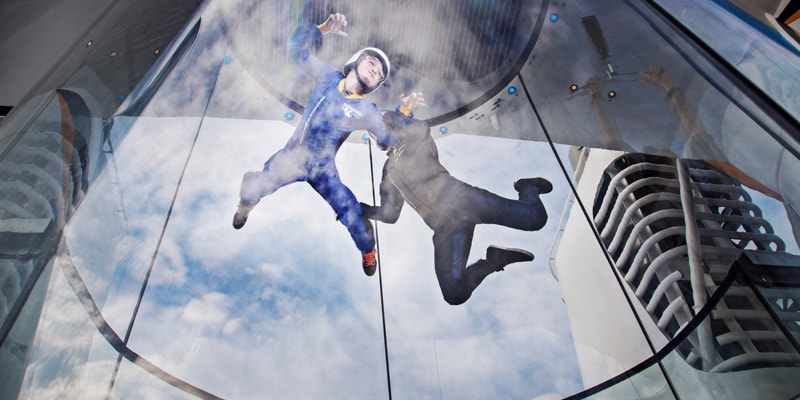 1/15

  The RipCord skydiving simulator
The RipCord by iFLY flight simulator is the floaty, thrilling, wow part of skydiving that comes after the 'noooooooooo' leap from the plane and before the earth hurtling towards you at warp speed terror. Let's just say: it's the only good part. So if you want skydiving's adrenalin rush without the death threat, this world first from Royal Caribbean is perfect.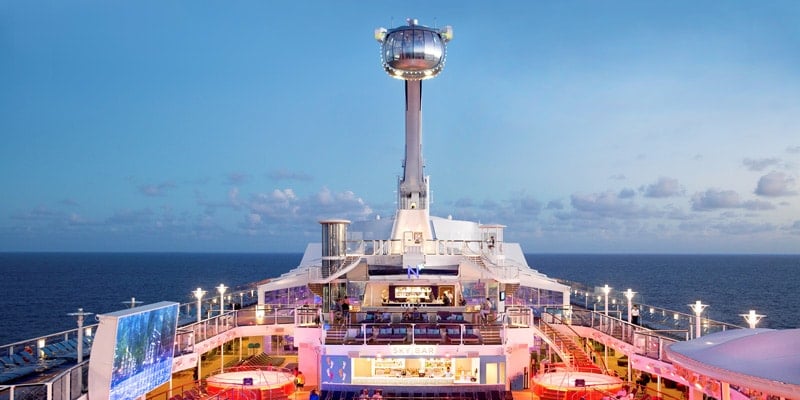 2/15

  North Star – 92m high, 360˚ viewing pod
You expect sea-views on a cruise but Royal Caribbean have taken it much, much further. Step into North Star's transparent viewing pod and slowly rise 92m above the ocean for a 360˚ panoramic audience with the great blue yonder. Sunsets, harbours, dolphins, whales, tropical islands, seaside cities and northern lights are included – if you're lucky.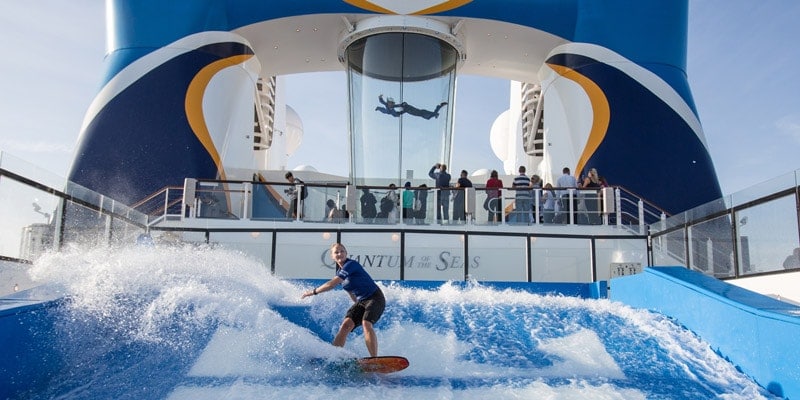 3/15

  The FlowRider surf simulator
No one waits for anything on a cruise, not even waves. Royal Caribbean's FlowRider on-board surf simulator provides perpetual 12m long rides with no hanging about on the beach and absolutely no previous experience necessary. It's not south west Portugal in January, but it's pretty amazing considering you're in the middle of the ocean.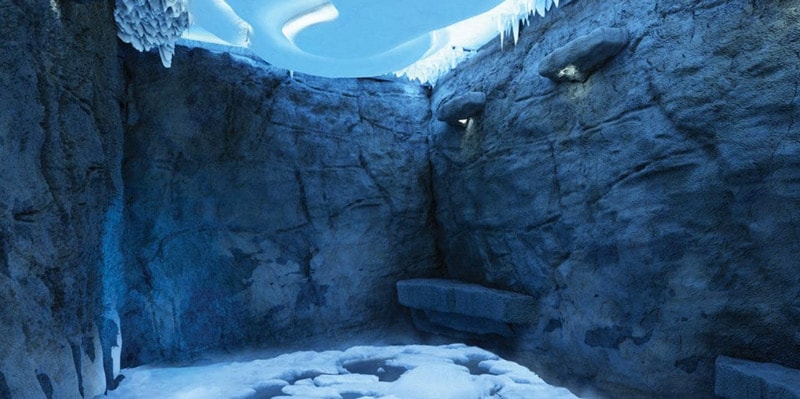 4/15

  The sea's first Snow Room
Norwegian Cruises are not Scandinavian but it doesn't stop them designing sub-zero Ice Bars and some of the ocean's most serious on-board climbing ranges. Now they also have the world's only floating Snow Room. Kept at a very frosty -6˚C regardless of the weather up top, this chill-zone may have frivolous snow flurries but it's pure therapy at heart, claiming to boost immune systems, improve circulation, burn fat and soothe sunburn.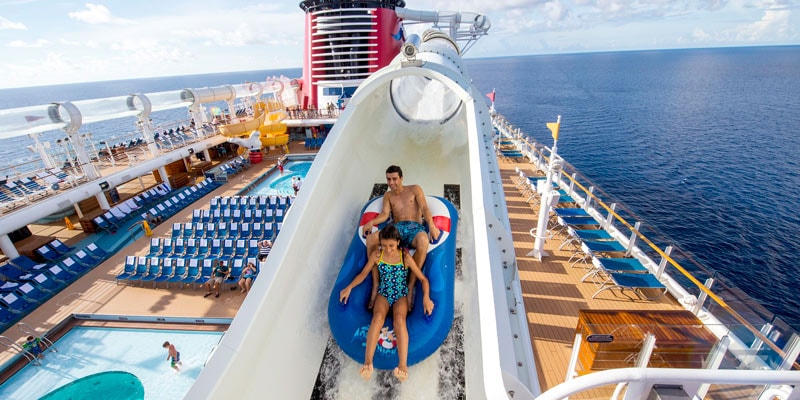 5/15

  AquaDuck – the world's biggest on-board waterslide
The longest, wildest, fastest and highest cruise ship water slide is brought to you by Disney. The 765 feet long AquaDuck swoops over the top deck, dips down to sea level, races fore and aft, then plunges into a 100 foot vertical drop. It's transparent and open sided all the way, so you don't miss a single, terrifying second – if you dare look.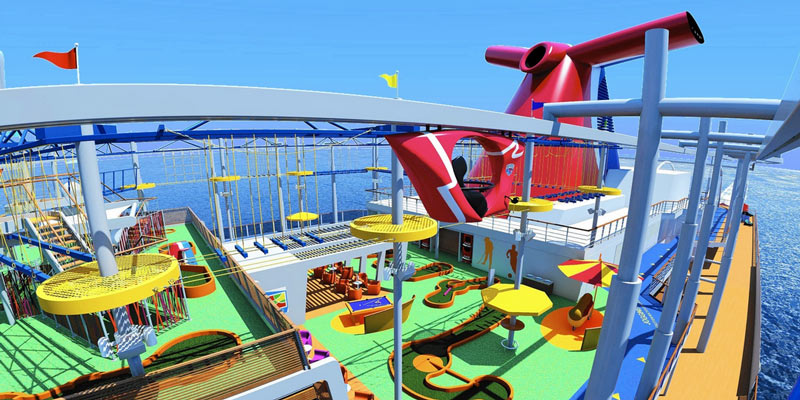 6/15

  SkyRide aerial cycling course
SkyRide is the first ever aerial cycling course on board a cruise ship. Part white-knuckle ride, part workout and all exhilaration, the pedal-powered bikes travel high above the top deck and out over the ocean. You're safely harnessed, the views are sensational and it's absolutely nothing like biking to work on a rainy Monday.
Image: blog.cruise.com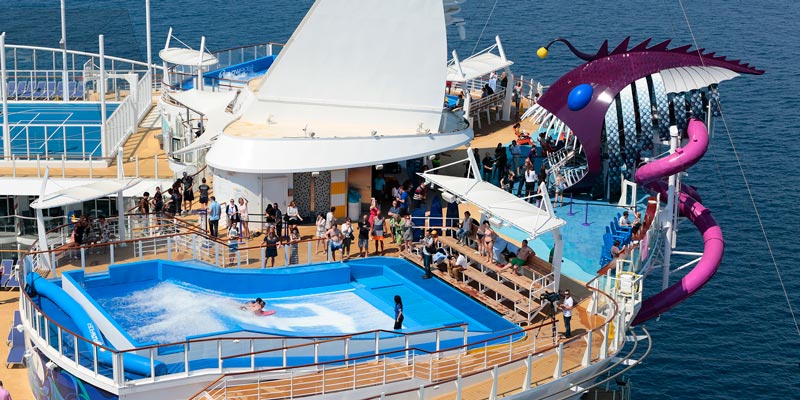 7/15

  Ultimate Abyss – the world's tallest dry slide
Royal Caribbean's Harmony of the Seas is the world's biggest cruise ship so it's no surprise to find it also has the world's tallest and most terrifying dry slide (10 storeys high with a 31m drop). What? No water? Apparently they tested this monster wet before launching and found it scared the living daylights out of passengers much more effectively without water.
Image: royalcaribbean.blog.com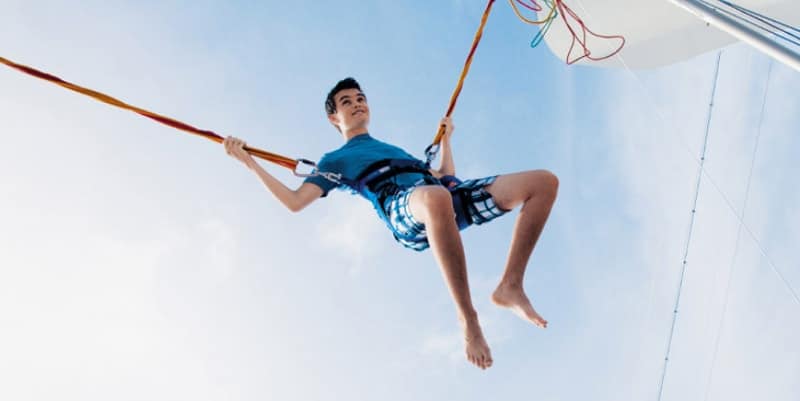 8/15

  The 17-deck high bungee trampoline
Breakaway is the tallest, widest and deepest ship in the Norwegian Cruise fleet and the adventure park on the top deck is as fun-packed as you'd expect. Kids can climb rock walls, zip line, swing around on ropes and splash about in the waterpark. But the biggest thrill of all is the only ocean-going bungee trampoline – just as daunting as any bungee, but this one's 17 decks above sea level.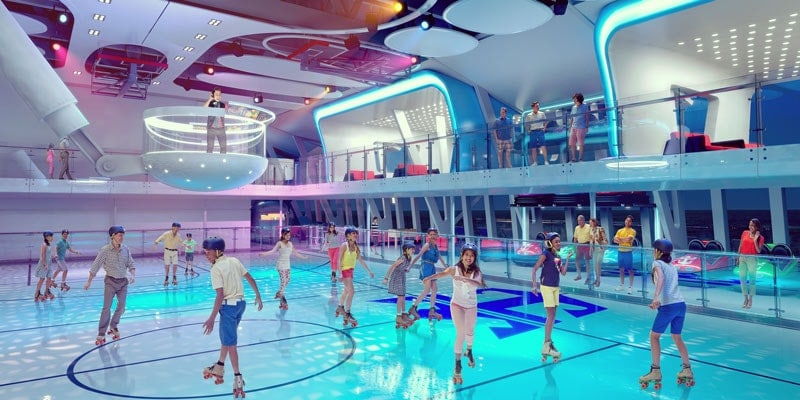 9/15

  SeaPlex – the ocean's biggest playground
With 30 dodgem cars, a roller rink and a full size basketball court, SeaPlex is another biggest from Royal Caribbean. Kids can learn how to high-fly, catch or be caught at the world's only ocean going Circus School. Food trucks and chill-zones provide the downtime. And there's even a floating DJ hovering around to add music to the mix.
Image: royalcaribbeanblog.com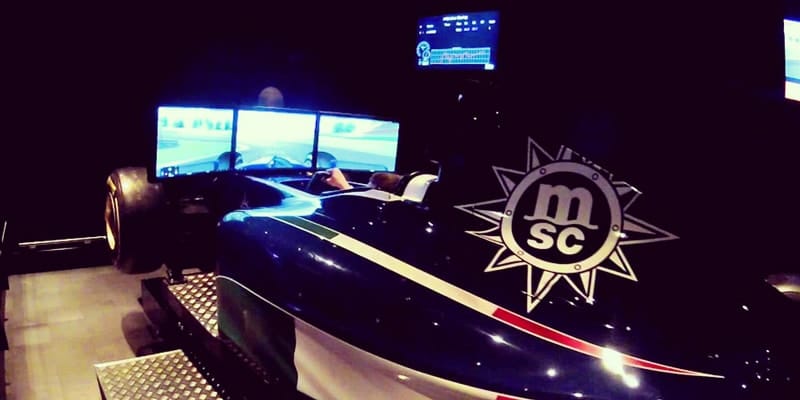 10/15

  Formula 1 motor racing simulator
MSC are the only cruise line with a Formula 1 racing simulator on board. So if you're missing your wheels or just want to know the sweet taste of victory without the mind-numbing fear, this is the toy to try.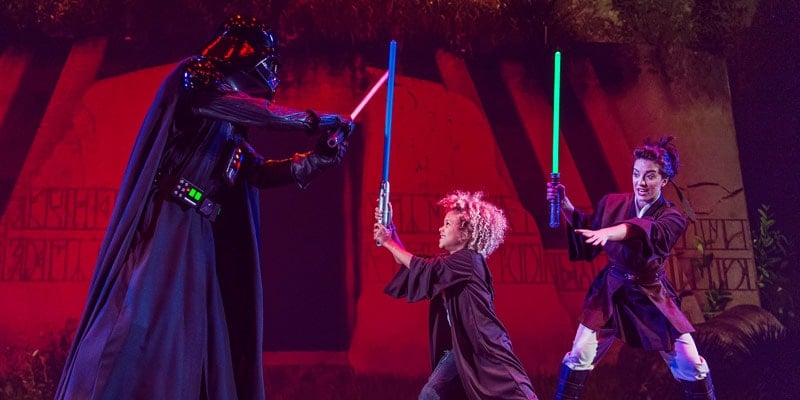 11/15

  Star Wars and the Jedi Masters
Disney invested millions in securing the rights to Star Wars and it shows in their exceptional themed cruises where kids can learn anything from the ways of Jedi Warriors to cool light sabre techniques. The more peaceable might prefer Character Breakfasts or Princess Teas. But just about everyone loves a good, old-fashioned Disney musical and there are plenty of those to go round too.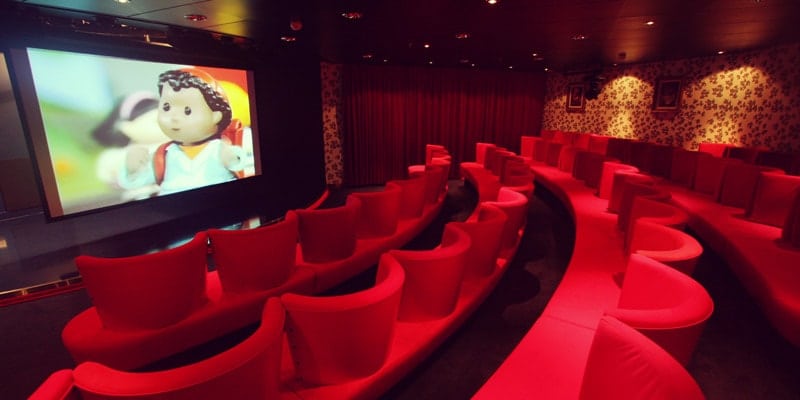 12/15

  4d cinema and over 7000 works of art
Costa Diadema doesn't believe in letting a single moment go empty on a cruise. So when you're aren't Laser Tagging with the kids, toe tapping in the Country Music Hall or catching a movie in the 4D cinema, you can be admiring over 7000 works in the world's largest on-board art gallery.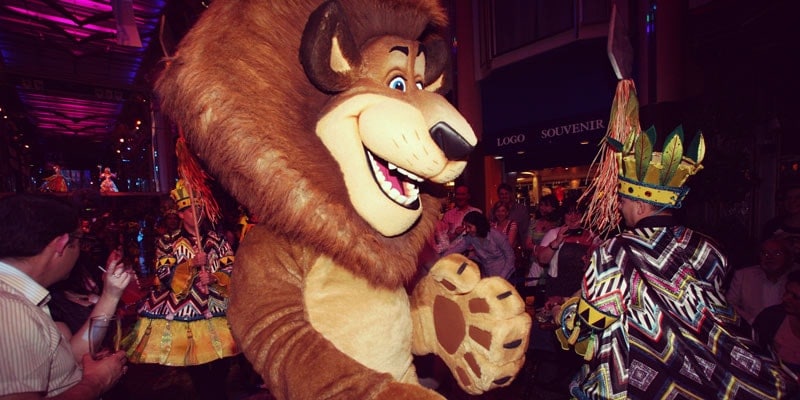 13/15

  The DreamWorks Experience

Not about to let Disney take all the character credit, Royal Caribbean have DreamWorks for their themed cruises. So wherever you're sailing, kids can have tea with the Penguins of Madagascar, visit Kung-Fu Panda in China or hang out with Shrek and Donkey down in the swamp.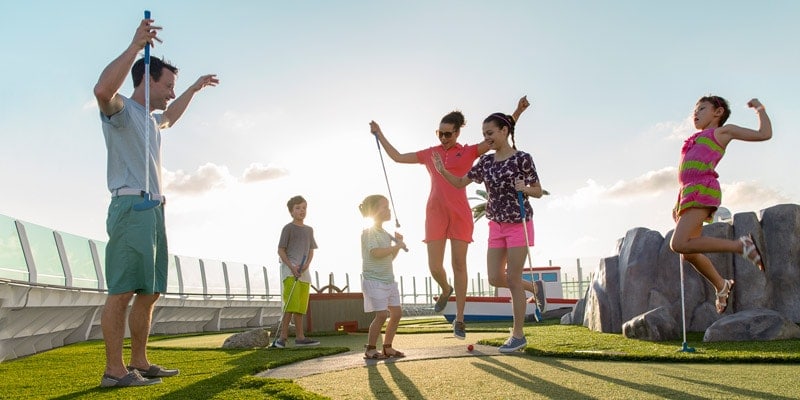 14/15

  Face the world's greatest water hazard
The round might be mini, but the weather challenge and enormous natural water hazards more than make up for a shortfall in holes on Quantum of the Seas' golf course.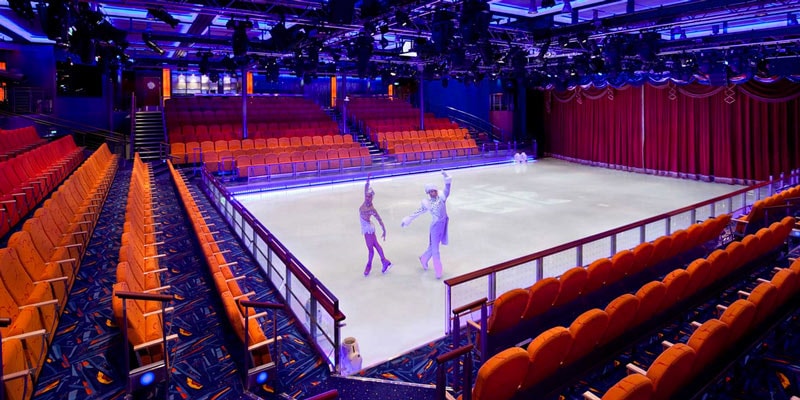 15/15

  Ice skating on the Caribbean

When kids get tired of the endless sun, warm water and big, blue skies on Ovation of the Seas, they can always strap on some skates and take to the ice instead. With resident DJs, snack stalls and a dazzling light show, this is the coolest alternative to pools currently setting sail.