Family Traveller reader, Audrey Iwasko, heads to Lviv in Ukraine with her three daughters to revisit the city she fell in love with over twenty years ago.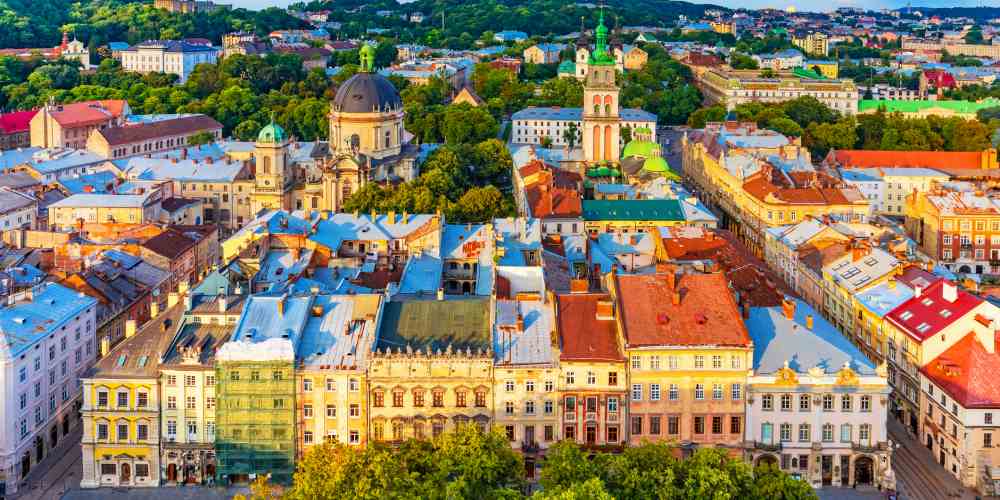 Lviv showcases a charm and uniqueness not found in other European cities. Its facade of grand architecture, cobbled streets and thriving cafes is undeniably European, but its heart and personality is entirely Slavic. And herein lies the allure and contradictions of Ukraine's most popular tourist city.
When I taught English in Lviv in the late 1990s, the Bohemian city was misrepresented by an ageing population that had grown up in the Soviet era. It took weeks of shopping at the local bakery until the plump old ladies selling bread would finally smile at me. An atmosphere of reticence and distrust presided throughout the city and, ultimately, Lviv proved to be a tough nut to crack. However, once I did, I couldn't get enough of its sweet, surprising centre.
Ukrainian culture at its heart is hospitable, spiritual and deeply passionate about its customs and history. Twenty years later, rumours had reached my ears about Lviv's modern transformations, and excited Ukrainian friends and family encouraged me to return. With the news of a direct flight introduced by WizzAir from London to Lviv, the timing was perfect. I booked a week-long holiday for me and my three girls to visit the city of my youthful adventures.
Nevertheless, in the midst of my excitement, I harboured some reservations; could two teenagers and a seven year-old enjoy Lviv as much as I did in the late 1990s? Would they appreciate its conflicting history, politics and culture, its crumbling alleyways, eccentricities, and Soviet vestiges?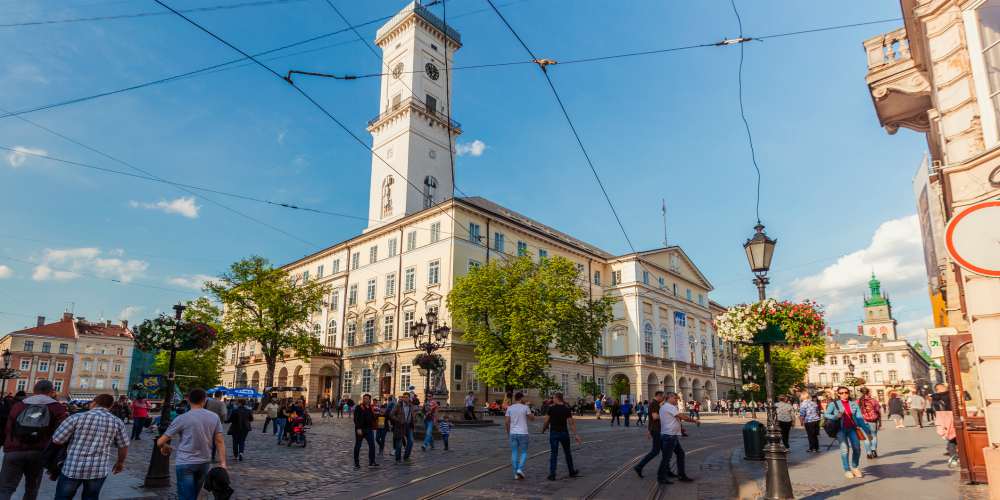 Our taxi pulls up to the stately Leopolis Hotel, a stone's throw from the city's heart, Rynok Square. It is the end of August, the sky is vivid blue and people of all ages are walking around in traditional, embroidered clothing. Either these people are incredibly patriotic or I'm missing something. My girls are oblivious to this colourful parade as their eyes are drawn to the neon-lit Bubble Waffle cafe next door to the hotel. I can't believe my eyes; this cafe looks as if it has been transplanted from trendy Soho. Squeals of delight escape their mouths when I agree that we can to go after checking into the hotel.
The soft noises of Lviv float into our hotel room; the sing-song chatter of cafe-goers, choral music from the church opposite the square, pigeons cooing. The sounds warm my soul. I quickly discover we have arrived on Ukraine's Independence Day, August 24th. Well that explains the multitude of embroidered shirts and flowers crowning the women's hair.
After a surprisingly scrumptious Bubble Waffle, we follow the crowds to Svoboda Prospect, the main boulevard in Lviv. My girls happily participate in the festivities by buying their own flower headbands from a stall. I guess one is never too old for flower tiaras.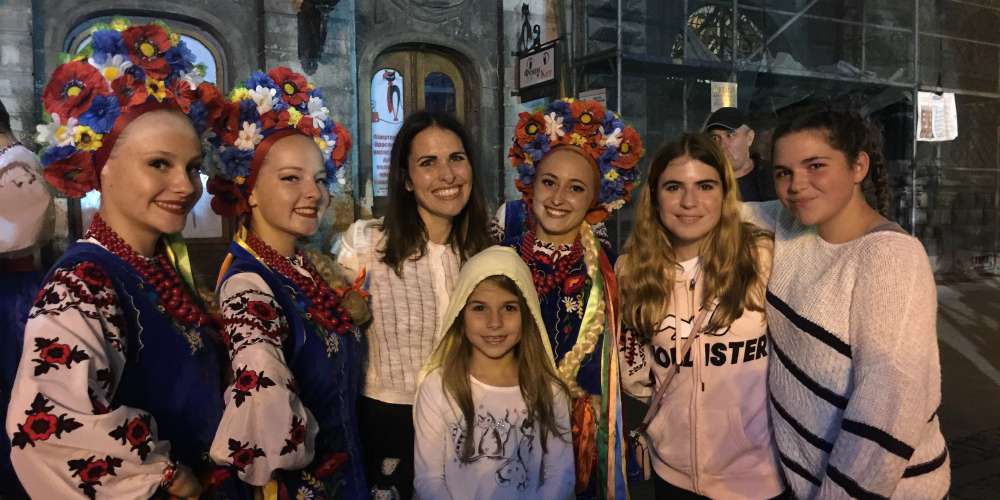 The crowds culminate at the top of the boulevard where an outdoor stage has been set up in front of the Austro-Hungarian Opera House. Ukrainian flags flutter above the audience while a pop-band belts out a crowd favourite. The environment is family-friendly, festive and full of hope and celebration. We ask a traditionally-dressed dancer to take a photo with us before she goes on stage, and before we know it, we're surrounded by enthusiastic dancers pushing in next to us. The girls and I feel a part of this city and we've only just arrived. I'm blown away by Lviv's transformations. Not only is the city looking repaired and updated, but the locals are upfront and friendly.
By day two, the girls haven't yet experienced authentic Ukrainian cuisine and, having eaten their grandmother's watered-down, limp version of Ukrainian food most of their lives, they weren't too thrilled about this portion of the trip before we left England. Friends invite us to Baczewski, one of the best restaurants in town offering 'new wave' Ukrainian, Polish and Hungarian cuisine.
Upon entering, my girls are mesmerised by the stylish interiors harking back to pre-war Lviv. The restaurant has four floors, a lush conservatory, singing canaries and a gift shop selling its famous vodka. The menu is full of familiar dishes: steak, chips, grilled chicken, various salads and homemade sausage. My mouth waters when I read the Ukrainian specialties: borscht (beet soup), vareniki (dumplings) and cabbage rolls, and my girls devour their plates of grilled chicken and potato varenik.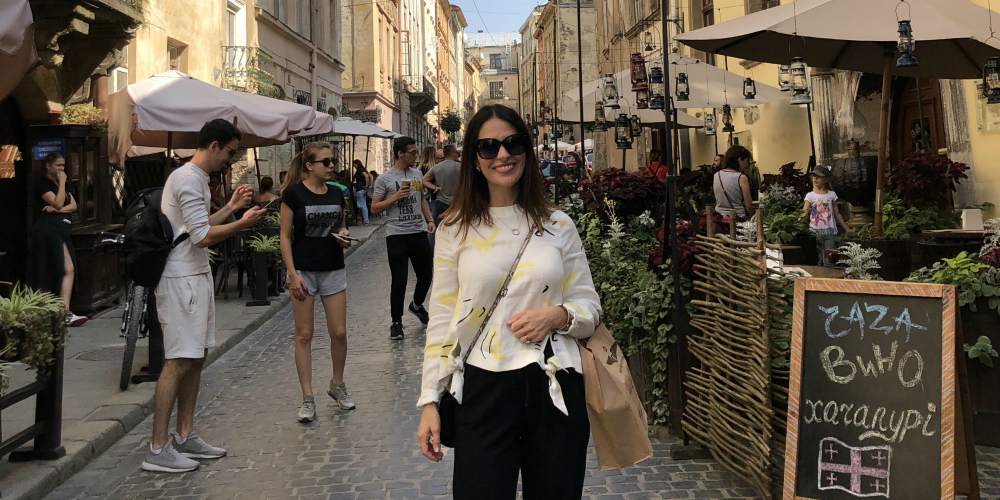 After lunch, we set off on a walking tour with my friends and they reintroduce me to my favourite parts of Lviv. We stop to watch street performers, buy souvenirs, observe new businesses and drink coffee at a hipster coffee house where my girls fight over the last slice of cherry cheesecake. Meanwhile, I'm in a state of complete bliss.
Despite the language barrier, my children were enjoying Lviv. The city was busier and more colourful than ever before and the locals seemed happier and unashamed to show off their city. Cherry liquor bars, chocolate shops, boutiques, and specialised restaurants and cafes now line every street and alley surrounding Rynok Square.
Throughout the rest of my stay, I marvelled at Lviv's united front in its effort at revitalisation. Tourists are welcomed throughout the city and provided with tailored experiences. A new, glass-topped tourist train provides a comfortable ride through Lviv with headphones for commentary; 'Lion Hunt' walking tour entertains the kids as they learn about the city's rich history; a modern shopping mall provides retail therapy, housing possibly the best toy store I've ever set eyes on.
Moreover, the quality of accommodation and food in Lviv is first-rate, yet the prices are rock bottom. Even with the current exchange rate, the pound goes a long way in Ukraine. Expect to pay £1 for a Popcorn Latte, £1.50 for museum entrance fees, £25 for a large family meal, and £120 per night for five-star accommodation. Tourists are few and far between, so you're really able to experience this quirky, Slavic-infused culture up close.
Most importantly, Lviv is small enough to explore by foot and provides ample entertain for all ages. It may not be the most obvious choice for a family city break, but its charm will mesmerise and captivate you in a way that leaves you yearning to return even decades later. It did for me anyway.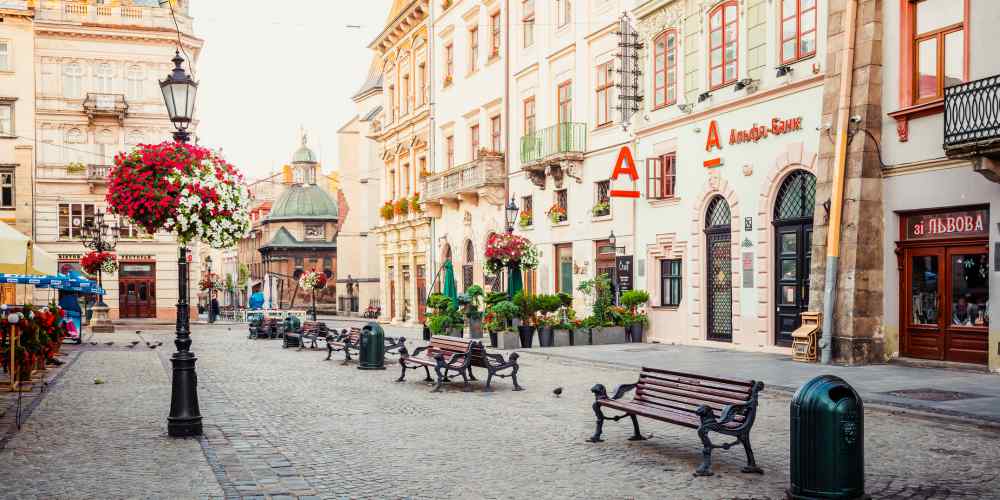 Audrey's highlights
Sweet treats
Lviv is a haven for children (and grown-ups) with a sweet tooth. Lviv Chocolate Factory is a fun destination, housed in an old townhouse off Rynok Square, with a creaky wooden staircase leading up to a cafe and rooftop view.
Dotted around the city are Caramel Factories, where customers can watch workers twist, bend and shape colourful hard candy. My girls bought handmade lollipops for their friends back in the UK and took many selfies in front of the artful windows.
Caffeine fix
Coffeehouse culture is big in Lviv and the city has become well-known for its various different spots offering mouth-watering desserts and unique coffee concoctions. Visit The Lviv Coffee Manufacture and partake in a flaming, caramelised coffee or try a lavender chocolate cappuccino.
History buffs
Lviv's Arsenal Museum, the original site of Lviv's first medieval weapon factory has an attached restaurant, Arsenal Ribs, decorated with original weapons and replicas where customers have the option to sit in medieval jail cells. Musical acts contribute to the atmosphere, making it a fun and memorable experience.
Photogenic spots
My middle child is an avid photographer, and the city is the perfect backdrop for Instagram-worthy photos. Street art, stunning architecture, quirky statues, and colourful bazaars full of embroidery and crafts, all make great photography. Visit the Yard of Lost Toys for an eerie, yet playful, background.
About the author
Audrey is a mother to three girls, aged eight, 15 and 16. Originally from Michigan, she has been living in the UK for 17 years. In her free time she likes to walk her dog, drink coffee with friends, and write young adult fiction. Her favourite family holiday was the at Soneva Fushi Resort in the Maldives, while her dream family holiday would be visiting the gorillas in Tanzania before relaxing on the beaches of Zanzibar.

Want to become a PAID writer? Contribute an article to Family Traveller by submitting your work through the readers' travel notes section of the website. Don't forget to add images and include a short bio at the bottom.