During a summer in which buffet breakfasts and queues at airports have been swapped for alfresco dining and outdoor adventures, Family Traveller reader and mother of three, Siobhain Archer, shares her top tips for enjoying a stress-free family camping trip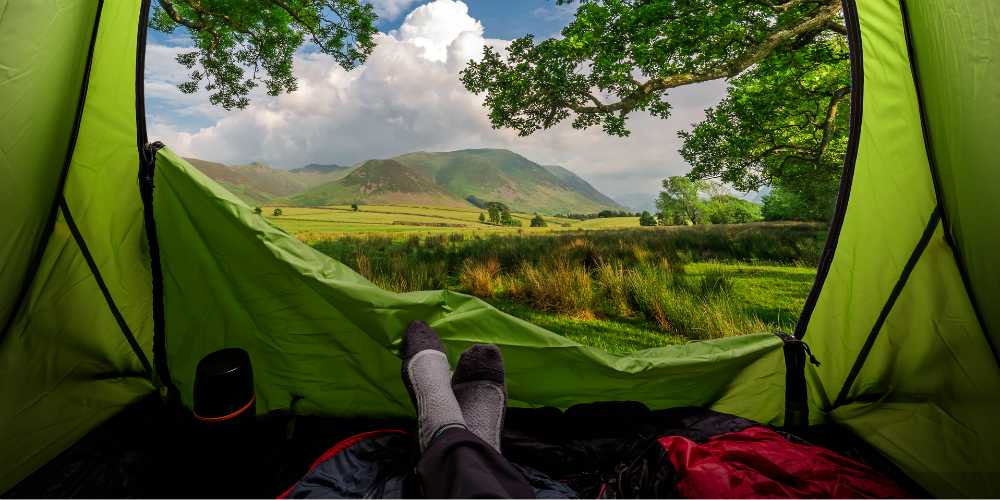 There are so many things to love about camping: the brilliant locations and activities, the chance to ditch the car, to digitally detox, and reconnect with nature and each other in a slower, simpler way of life. Camping and glamping trips have created some of our most memorable holiday moments — like the evening on a beach in Oman telling stories by the fire, waking up next to our horses cowboy-style in Dorset, or listening to the lions' roar from our cabin at London Zoo. Mostly, though, the joy of camping lies in the simple things: the sound of zips and flip-flops, and breakfast with a view. 
Here are our top tips for a fantastic family camping experience:
Before you go
Choose your location based on your children's ages and needs
Aside from offering value for money, freedom and flexibility, campsites are often located in the best spots. We've pitched up by the sea, on the side of mountains and in the middle of forests; in tiny basic campsites with nothing but a compost loo, and huge hotel-style complexes complete with pool slides and spas. Our needs have changed as the children have grown up. For years, they just needed a site with space and other children to play with. Now, we seek out sites with in-built activities — paddle-boarding on a Swiss lake, cycling in the Peak District or river swimming in Somerset, for example.
Beware of noisy campsites 
We've been pretty lucky with noise levels on campsites (except one Italian campsite which ran a kiddie disco at 10pm, and one camping pitch near a family who had apparently decided that nightly sleep training their toddler was best done on holiday with only a sheet of nylon separating them from everyone else), but at some point, every camper will be disturbed by night-time noise. Some campsites are louder than others; those that accept groups, and any 'lively' sites might be best avoided if you have young children. Even now, with older children who go to bed late, we choose smaller sites with a clear curfew and commitment to keeping things quiet.
Check the rules before having a campfire
Nothing says camping like wood smoke wafting through the evening air, and for us an open fire is essential. How else can you sit late into the evening, toasting marshmallows and reliving the day's adventures?  Not all sites welcome open fires though. Some will insist that you raise your fire-pit or BBQ on bricks, some offer a communal fire-pit, while others ban fires altogether, so if a fire is important to you, it's worth checking the rules first.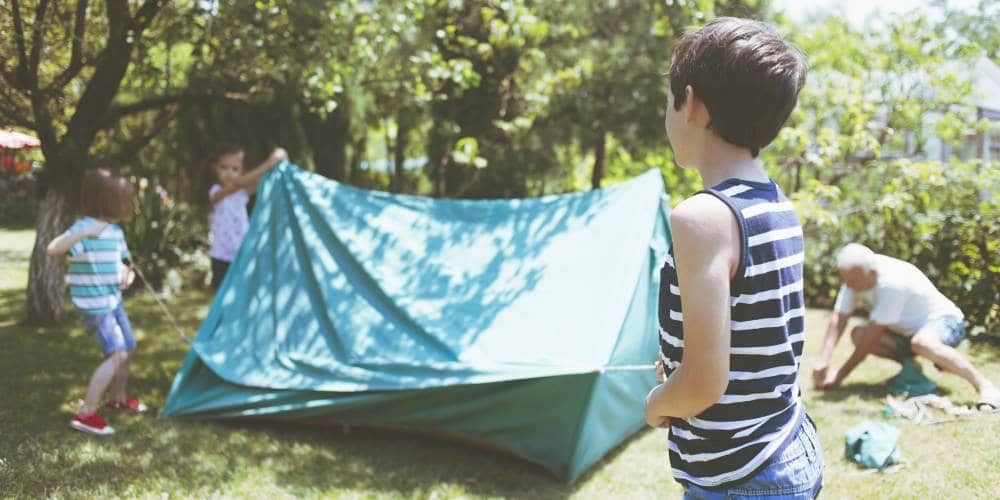 Once you've arrived
Take your time pitching up
On open-plan campsites, your fellow campers can provide hours of free entertainment. We've happily watched new arrivals struggle with poles and pegs, and of course, we've provided plenty of amusement ourselves, especially in the early days before we learned that arriving at a new site with tired and hungry kids and immediately attempting to make camp was a recipe for disaster. We now take our time— we'll do a recce of the site, maybe visit the shop, definitely visit the loo (or send the kids to do these things) and only when everyone is feeling more human will we even begin to unload and pitch up.
Embrace the grunge
Thinking of popping a quick wash on while you're camping? My advice is don't bother! It's a complex and time-consuming operation that involves obtaining the correct tokens, figuring out how the machines work, claiming one by placing your laundry on top, waiting for your fellow camper to empty their machine or risking their wrath by doing it for them, loading your wash, returning several times to check whether it's done and repeating for the dryer. I have honestly spent the best part of many days doing this, so now we either embrace the grunge or, if desperate, go old-school and wash by hand. Part of the joy of camping is that nobody cares if your clothes are clean, your pitch is tidy or your hair is brushed.
Be flexible about bedtimes
Depending on the site, night-time activities vary from cards and marshmallows around the fire to kids' discos, volleyball tournaments or karaoke nights. Inevitably, camping days shift to match the temperature, light and noise levels; so we've found a relaxed approach to bed-times really helps — and might even mean you get you a lie-in the following morning! 
Encourage independence and share out the chores
Camping holidays have provided our kids with their first taste of proper independence, and for us a perfect campsite is small and quiet enough to allow them to bomb about on their bikes to visit new friends, find a game of cricket, football or basketball to join, pop to the shop by themselves, or maybe even join in the communal washing-up fun.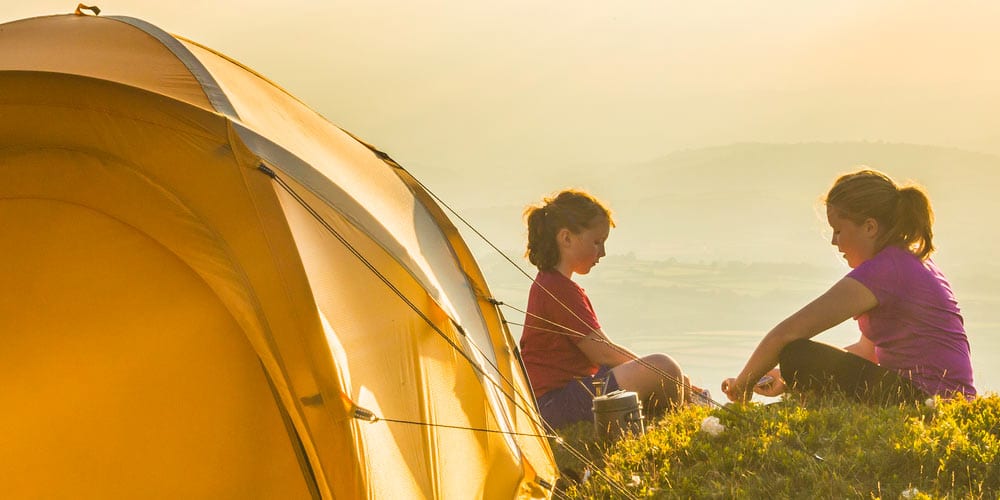 Bring a pack of cards … or two
Apart from the entertainment provided by other campers, no camping trip is complete without a card game. Our van is usually stocked with a selection of cards to keep us busy. We always pack a regular deck of cards or two for faves like trumps, cheat, rummy, patience and slaps, as well as firm family favourites Uno, Monopoly Deal, Cardline and Set.
(For tent campers only) Zip up your inners
My (nearly) final tip is this: always zip up your inners if you don't want to find yourself sharing your bed with some unwelcome visitors!
And finally, mix it up! Consider a more spontaneous holiday or even a road trip
If your family life is usually a whirlwind of scheduled activities and school runs, you might like to leave some holiday time unplanned and go with the flow a little. Some of the loveliest campsites don't take bookings, and although it can be unnerving to trust your precious family break to chance (and we've certainly had our share of stressful moments), we've found that a little spontaneity can be liberating; allowing us to adapt and amend as the mood takes us — or the weather dictates.
In fact, if you don't mind a bit of uncertainty, or are happy to plan thoroughly, camping can be a great way to organise a family road-trip. With the help of the ferry network, we've travelled through a large part of Europe doing this and have loved the element of adventure it provides. The kids enjoy the familiarity of the van and knowing how campsites work, while we like exploring lots of new places. Win-win!  
Useful links
Sites like Cool Camping or Pitchup are really useful for planning, and I defy anyone not to come away from these sites and start packing their tent immediately. For glamping, try Canopy and Stars, or, for European options, operators like Eurocamp or Huttopia are brilliant. 
About the author
From Amsterdam to Zonza, Siobhain and her family have spent several years visiting a place for every letter of the alphabet and sharing their travelling adventures on Instagram (@fiveonhols) along the way. She is looking forward to a summer holidaying closer to home and hoping to visit South Africa in the autumn.