This November, Windjammer Landing launches the world's first Underwater Breathwork Programme at their all-inclusive family resort in St. Lucia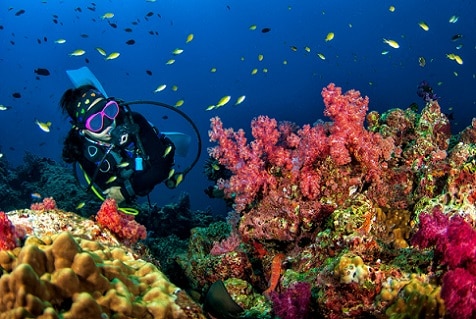 A calm-inducing wellness strategy and some warm Caribbean sunshine is a combination most people would welcome this winter. That's certainly the thinking behind the new Underwater Breathwork Programme which will be available to guests at Windjammer Landing resort in St. Lucia from 19 November 2020.
Breathwork is now widely recognised as key to combatting anxiety and lowering stress levels, but this is the first time its therapeutic powers have been harnessed alongside the joy of diving in the Eastern Caribbean's famously pristine waters.
The unique Underwater Breathwork Programme has been developed by Windjammer Landing's wellness team in partnership with the resort's dive school and leading experts in mind/body therapy, meditation, yoga and Ayurveda. And as the entire, gently guided experience combines underwater exploration, breathing techniques, yoga, visualisation and mindfulness exercises, it looks set to appeal equally to experienced divers and wellness enthusiasts.
Wellness for all the family at Windjammer Landing
A Mediterranean style luxury resort designed around 60 acres of forested hillside on the north-west coast of St. Lucia, Windjammer Landing has clearly put a lot of thought into family holidays. Even the sanctuary-like spa is designed for all ages, right down to dedicated 'family hours' each week. And in terms of accommodation, families can choose between spacious suites sleeping up to six or a range of airy villas with private pools and space for up to 12 guests.
The resort's generous all-inclusive family holidays cover food and drink from five different restaurants and several bars, the freedom of Jacquot Kids Club for four to 12-year-olds and access to a full programme of outings and activities created exclusively for teenagers.
In addition to six swimming pools – two of which are reserved just for children – Windjammer Landing sits on one of St. Lucia's loveliest beaches where families can try anything from windsurfing and catamaran sailing to kayaking or paddleboarding. Plus, if kids are keen to learn another style of underwater breathing, the resort's PADI dive school is the only one on the island to offer children's lessons.
Currently there are no quarantine restrictions for UK travellers to St. Lucia. In July 2020, Windjammer Landing was certified by the Ministry of Tourism as a COVID19 Compliant Resort and reopens on 19 November 2020 with newly appointed Health & Safety Officers in every department and a full-service medical station equipped in line with COVID19 protocols and staffed 24/7 by a registered nurse and on-call doctor.
Find out more about the new Underwater Breathwork  Programme and all-inclusive family holidays at Windjammer Landing in St. Lucia.