Sponsored Content
Warm and sunny October holidays are a promise at ROBINSON Resorts in Cyprus, Morocco and Fuerteventura. But wonderful weather is only the start of what makes ROBINSON such a perfect choice for family breaks this autumn.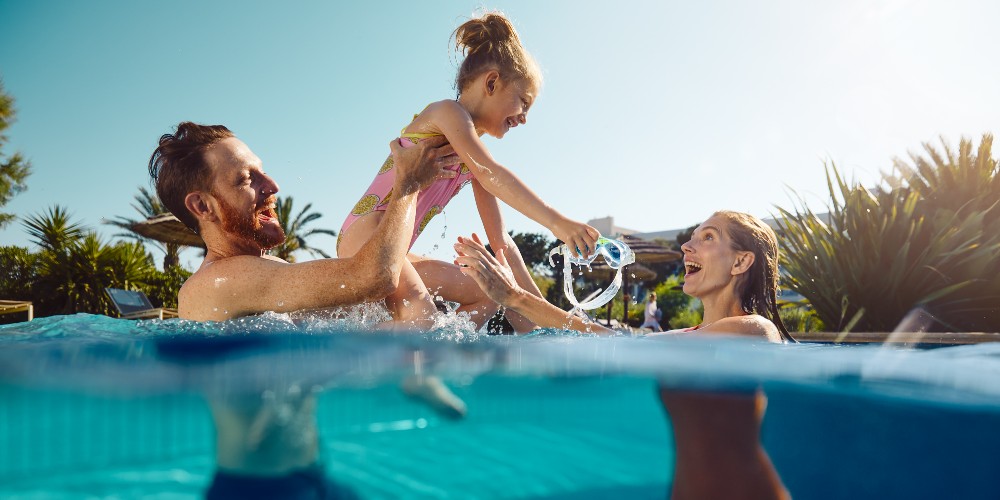 When travelling with children of any age, it's absolutely essential that you find a resort which understands what families need. With ROBINSON, the whole family is looked after from start to finish. With over 25 clubs across the world, from island paradises to Alpine hideaways, they're experts at creating unforgettable moments and experiences that can be shared together.
Kids take centre stage at every ROBINSON resort with the ROBY kids clubs. Catering for children from three to 17, the club is separated into age groups so everyone, from tots to teens ,can enjoy age-appropriate activities and make friends. Each day is packed with mini adventures, from sports and games to crafts and parties. Plus, kids who particularly love swimming or tennis can even take advantage of free taster sessions.
Of course, balance is always key to a great family holiday, so parents have plenty to keep them entertained while the kids are being looked after. Whether it's pampering spa treatments, water sports, yoga or horse riding, each resort has its own list of grown up treats which harmonise perfectly with family together time.
If you're travelling with baby, you don't have to think about baby food, baby bottle warmers, changing mats, monitor or high chairs and buggies. Simply reserve the Roby babyset when you book  and all the essentials you need will be waiting for you on arrival. Babysitting is also available, should you want to indulge in some child-free time to enjoy the resort facilities.
Here are our top three ROBINSON resorts for this autumn. They're all sunny and warm, but not too hot for younger kids, and at this time of year, not too busy either. In fact, all round perfect for October holidays. Plus, as ROBINSON are joy givers and determined to fill your days with small moments of happiness which all come together to create an unforgettable experience, don't miss out on their exclusive Family Traveller reader offers!
5-star Robinson Agadir – Morocco is made for sunny October holidays
Luxurious ROBINSON Agadir is a truly stunning oasis that's ideal for family getaways this autumn. With direct flights under four hours from both Luton and Gatwick to Agadir airport (which is just 35 minutes from the resort), escaping to the sun couldn't be easier.
After waking up in your beautifully appointed family suite – made up of two rooms that share a connecting corridor – you can walk straight out onto the sandy, sloping beach that comes complete with sunbeds, parasols, towels and daybeds.
Alternatively, you have five pools to choose from, including a dedicated kids' pool, as well as plenty of family activities to keep you all busy. All ROBINSON resorts excel at expressing the character of their location and ROBINSON Agadir is no exception. Here you can ride horses on the beach or in the desert and day trips to historic Essouria or fascinating Marrakech are easy to do with older kids. In the evening you can catch authentic local performance at the resort's theatre. Or of course, you could just relax at the beach bar and watch the sun set while sipping cocktails and mocktails.
When it comes to meal times, this generous all-inclusive luxury resort offers a choice of two restaurants, and you can also look forward to a range of exciting themed food evenings.
Book ROBINSON Agadir for October holidays and enjoy exclusive Family Traveller offers
Look forward to a thoughtful welcome gift on the day of your arrival.
Then enjoy 20% discount on a range of indulgent SPA treatments including:

Sports massages to work tension out of your muscles, relieve stress and leave you feeling soothed and revitalised.
Aroma oil massages to restore harmony, peace and well being to your entire body.

Available only to Family Traveller readers for arrivals up until 22 December 2022.
Robinson Esquinzo Playa – a family paradise on peaceful Fuerteventura
Fuerteventura in the Canary Islands is always a winner for families in search of sunny October holidays.  But ROBINSON Esquinzo Playa takes family fun to a whole new level. Sitting right on Esquinzo Beach, it's the ideal resort for families who want to spend all day in the sand and surf. It's also amazing for water sports and has no less than five resort pools. Younger kids will love the safe and shallow one designed just for them, right down to a thrilling and colourful waterslide.
Although the excellent kids club is great fun too. There's a play area for climbing, swinging and sliding, and the skilled team encourage kids to learn, play and make friends. But of course the whole resort is geared towards families. In addition to three on-site restaurants, children have their own dedicated restaurant and you can look forward to themed food evenings and entertainment.
For a change of scenery or to slow down the pace, swap your sports and swimming for a spot of creativity and visit the family studio, where you can paint together and create something special.
There are direct flights to Fuerteventura from several UK airports, taking from 4 hours. Esquinzo Playa is an hour's drive from the airport, so your October holidays really couldn't be easier.
Exclusive Family Traveller offers when you book ROBINSON Esquinzo Playa
Enjoy a complimentary dinner in one of Esquinzo Playa's restaurants each week of your stay.*
Relax with a free 25-minute massage between 9am and 11am.
Offers available for arrivals until 22 December 2022 and only to Family Traveller readers,
4.5-star Robinson Cyprus – October holidays in one of Europe's sunniest countries
If you're dreaming of a sunny getaway this autumn with beach days, family fun and plenty of time to share precious moments together, ROBINSON Cyprus has everything you need.
The resort sits on a long, sandy beach overlooking a large bay, so sailors, surfers and kite surfers enjoy near-perfect water sports conditions. There are also four pools where you can splash, swim and relax with epic sea views. And a full-board package means family mealtimes are more relaxed in either of the two resort restaurants. We highly recommend tasting the local flavours of Cypriot cuisine with its Greek and oriental influences and don't miss the fortnightly Luhana Hawaiian-style evening for a truly memorable experience.
Cyprus is full to the brim with interesting culture and warm, friendly people, and ROBINSON excursions mean you can make the most of the island. Alternatively, you can go self-guided and take a bike tour to discover this lovely part of the Mediterranean for yourself.
Inspired to make the October holidays sunnier and more fun this year? Visit ROBINSON and find out more about their exceptional family resorts, joyful philosophy and to take advantage of their exclusive offers.
*subject to availability and reservation.