Sponsored Content
Sentosa is made for multi-gen family trips because it puts families of all ages spending time together at the heart of everything. So if you're planning the type of holiday to make everyone happy, here are a few ideas to get you off to the best possible start.
The perfect Sentosa hotels for multi-generational family trips
Keeping everyone happy is the key to successful multi-generational family trips, so never underestimate the importance of choosing the right hotel. Of course, plenty of space is a priority when your family is larger than average. However, it's often the details that make the difference and we have found two exceptional resorts where space is a given and no detail is too small to overlook.
Oasia Resort Sentosa: a calm holiday oasis
The first thing you notice about Oasia Resort Sentosa is its mix of classic Singapore architecture and airy, modern design: grandparents will definitely approve.
All 191 individually designed rooms feature a soothing, natural colour palette. Touches like yoga mats and wellness videos on-demand, enhance the sense of calm personal space. Although the ultimate sanctuary has to be harmonious Oasia Spa which offers a range of treatments to revitalise body and mind.
More energetic activities are available if you want to shift up the pace. And when it comes to food, there are seven restaurants to choose from, including 1-Altitude Coast for casual all-day dining around the resort's roof top pool.
Oasia Wellness Family Package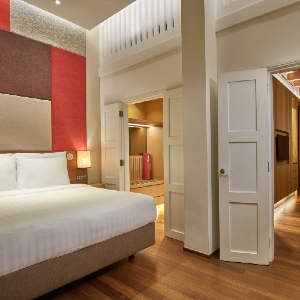 A 2-night stay in an Oasia Junior Suite including parent & child activities, wellness amenities, and up to 25% off a range of Sentosa attractions.
Equarius Villas: a natural haven for family trips
Imagine a spacious family villa with its own garden and personal butler service, and you have some idea of how dreamy your stay could be at Equarius Villas.
Choose from one to four bedroom private villas with gardens or sun decks, access to a fabulous free-form swimming pool and a butler on hand to meet every need. Plus, Sentosa is right on your doorstep, but you don't have to make any effort to explore: Equarius Villas has shuttle and buggy services to take you anywhere you want to go resort-wide.
3-bedroom family villa with private pool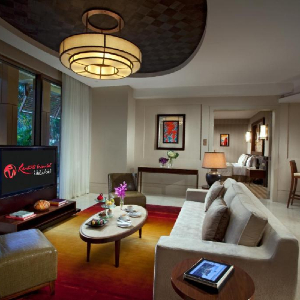 Ideal for multi-gen family trips, this luxurious 3-bedroom villa features a private pool with ocean views and sleeps up to 6 adults and 6 children.
Sentosa restaurants to bridge all generation gaps
It doesn't matter if you're trying to tempt a picky toddler or persuading your fussy parents to try something new, restaurant choices can make or break a family holiday. Fortunately Sentosa has so much choice it's impossible to go wrong. Take a look at three favourites that never fail to serve multi-gen magic.
Panamericana: barbecue to impress grandparents
An excellent choice for multi-gen dining, Panamericana has plenty of space for kids to be kids. However, as part of Sentosa Golf Club it's also effortlessly elegant and features incredible South China Sea views.
Although, we think grandparents might be most interested in Panamericana's cooking style. Everything from fresh fish and meat to seafood is prepared on an Asador grill: a traditional Argentinian barbecue which grills, smokes and chars to melting tenderness. The restaurant's impressive wine list is matched by the staff's extraordinary mixology skills, so look forward to sublime cocktails and even work-of-art mocktails.
The Kitchen Table: Sunday brunch by the pool
Don't be deceived by its low-key, homey name, The Kitchen Table is 'the' place on Sentosa for Sunday Brunch with the parents, and your kids, of course.
Set in W Singapore, this all-day-dining restaurant has all the same cool as the legendary hotel brand. But you don't have to be guests to eat here, which is good news as the Bubbly Remix Brunch is not to be missed. Buffet style is perfect for keeping everyone happy, the choice is incredible and live cooking stations add a theatrical touch.
Whether you sit indoors or out, you can't fail to spot W Singapore's fabulous pool, happily that's part of your brunch experience too. We recommend settling in for the day. Younger kids can splash around and eat when they like. Poolside DJs are a great vibe for teens. And grown ups get to be grown ups and enjoy unlimited pours of wine, beer and cocktails.
Tanjong Beach Club: the oceanfront all-rounder
Finding something for everyone is key to the success of multi-gen family trips, and Tanjong Beach Club has that secret mastered. Not only does it sit on its own stretch of gleaming white sand, it features a great pool and seating options range from sun loungers and daybeds by the water to an air conditioned interior.
There's probably no need to tell you how much the splash about, beachy energy appeals to kids. But you might be interested to know that pets are honoured guests here too, so nobody in the family misses out at TBC. And on the all-important food front, all-day-dining favourites like Smashed Avo Toast mix it up with child-friendly classics such as fish & chips. As well as a full-service bar the Club also rustles up delicious fresh juices, and thirsty pets will be delighted to find water dispensers thoughtfully placed for their post-beach-run refreshment.
Sentosa attractions rule multi-gen family trips
Pleasing everyone can be like walking a tightrope on multi-gen family trips. Relax and think of Sentosa like a beautifully designed safety net. There's so much to see, do and explore here that it's almost impossible to misstep, whether you want quiet time for toddlers, a gentle hiking trail with grandparents or non-stop thrills for older kids.
Thrill kids with virtual adventures
Headrock VR takes virtual reality to another level entirely. Kids can look forward to absolute immersion and we promise, the excitement feels very real.
No fewer than eight extreme experiences take kids from deep in the jungle to the spine-tingling edge of impossibly tall skyscrapers. Even evading one-track-mind zombies on the warpath is all in a day's play at Headrock VR. But don't miss the latest addition, Hello My Dino! a futuristic children's playground for young VR newbies.
Find adventures for real on the beach
Sentosa does beautiful beaches, Ola Beach Club brings the water sports. An inspired choice for a chill multi-gen day, Ola offers everything from kayaking and stand-up paddleboarding to the sky-high fun of jet-blading. It's close to the Beach Station, so you can also add easy-to-reach into your reasons to go. And if you need more persuasion to stay all day, the Hawaiian fusion menu seals that deal.
Expect smiles all-round from these family attractions
Multi-gen family trips are all about being together as a family and having the time to really enjoy each other's company. On Sentosa you'll find ideal space all over the place to make the most of every moment and store up some of the best holiday memories.
S.E.A. Aquarium: over 100,000 marine creatures
Sensational S.E.A. Aquarium has thought of everything when it comes to creating a perfect family day out on Sentosa.
Discover over 100,000 marine creatures from 1,000 species, across 45 different habitats.
Get up close to underwater legends like sharks, jellyfish and sting rays.
Indoors and fully air-conditioned, the aquarium keeps all visitors comfortable, relaxed and able to enjoy the space in their own time.
E.A. is networked with ramps and elevators so it's easy to navigate. Should anyone in the family need a wheelchair, they're available to rent at the Guest Services Counter.
As well as handy snack counters throughout the aquarium, there are also plenty of convenient toilets.
There's a choice of several different ticket options and entry is free for children under 4 years of age.
Scentopia: for grandparents and teens to share
The aroma-rich Scentopia adventure is a wonderful bonding experience for grandparents and teenagers.
Explore the innovative 'touchless' perfume making bar.
Join free, scented tours and indulge in over 300 augmented reality experiences.
Learn to craft perfumes from Scentopia's collection of 200 scented oils.
Take a personality quiz and create your very own 'signature scent'.
Get close to nature and closer as a family
Everyone knows about Sentosa's fun side, but the island is also an incredible natural environment for families to catch a breath, reconnect and explore at their own pace.
Fort Siloso: a walk on the wild side of history
Fort Siloso was built in the late 19th century to protect Sentosa Island from sea invasion. However, it really came into its own during WWII when it played a vital role in supporting ground forces against Japanese troops. This fascinating history combines with magnificent nature to make one of the most enthralling heritage trails on Sentosa today.
Now a designated National Monument, Fort Siloso houses an interesting collection of WWII artefacts.
Take the 11-storey high Fort Siloso Skywalk for a bird's-eye view of the fort and its surrounding area: a great way to get your bearings.
Follow the Gun Trail or the Heritage Trail to discover remains of military structures, coastal guns, wax figures and interactive videos which bring events in Singapore's history to life.
You can access the Fort Siloso Skywalk by lift and the heritage trails are wheelchair accessible. Alternatively, there are guided tours which give you an even deeper insight into the area's history.
SentoSights: new tours of Sentosa for everyone
New SentoSights tours add another layer of enjoyment to your family's experience of Sentosa. There are 11 different tours to choose from covering themes from sustainability and conservation to the hidden secrets of the island. Here are three of our favourites for multi-gen family trips.
Magical Discovery @ Sentosa explores the wonders of the island from its historic connections with Singapore to its best kept secrets. Families can see street performers and magicians along the way, hear stories and even pick up some new tricks. A great tour for all ages, young and old.
The East-Asian Flyway tour, introduces visitors to birdwatching on Sentosa. The island is actually on the East-Asian Flyway, so it's a migratory hotspot and the perfect place to learn the ropes of 'birding'. Another tour that's suitable for the entire family.
Sentosa Intertidal Exploration lets you discover the world beneath the water on Sentosa. It's a rare chance to see creatures we often overlook and learn about how the island's various natural habitats co-exist.
Getting to and around Sentosa on multi-gen family trips
Accessibility is just one more reason Sentosa is so popular for multi-gen family trips. Not only is getting to the island easy, everywhere on Sentosa is well-connected and designed to make exploring a pleasure, for all ages.
A wide choice of ways to travel between attractions, ranges from taxis, cable cars and buses to The Sentosa Express and Beach Shuttle.
Wheelchair-friendly cable cars are easy to reach by elevator. Plus, they're also designed to slow down so wheelchair users can safely board. And for extra peace of mind, staff are on-hand if you need any help.
Brilliant Sentosa Boardwalk is the way to 'walk' on to Sentosa, without the effort of walking. Travellators allow you to move along the 670m boardwalk effortlessly and enjoy the wonderful views on-route. You'll also be pleased to know that the entire boardwalk is sheltered from the elements and wheelchair accessible.
Now you know how to get the most out of your stay in Sentosa, start making plans. Visit Sentosa for everything you need from booking accommodation and tickets for attractions to special offers and event news.