Ras Al Khaimah is Dubai's close neighbour, the most northerly emirate and where families from the busiest city in the UAE go on holiday to relax, escape the crowds and still enjoy the comforts of home.
RAK, as it's better known, shares a lot with Dubai. It has a similar gorgeous coastline, immense desert landscape, year round sunshine and luxurious beach resorts. But, as Dubai grew taller and bigger, Ras Al Khaimah concentrated on history and natural beauty, designed in harmony with the landscape, looked outdoors for holiday adventure and protected the best of its heritage.
So if you aren't familiar with the UAE's rising star yet, here are ten of its best kept secrets.
Hajar Mountains: see the tallest peak in Ras Al Khaimah
The Hajar Mountains are as imposing in Muscat as they are in Dubai, but it's Ras Al Khaimah that has the most impressive peak of all. Jebel Jais stands 1934m high on the border between Ras Al Khaimah and Oman, it's the highest mountain peak in the region and the road that climbs and winds towards the summit is spectacular.
Take a more eco-approach and the mountainous landscape is just as thrilling to walk, climb and bike through. Camping under immense, starry skies is another unforgettable experience. And, if the thought of daring out alone is daunting, Hajar Mountain Adventures offers a choice of kid-friendly activities.
Awafi Desert: home to the biggest cultural festival in the UAE
For majestic dunes and unbroken stretches of sand close to the city, Awafi Desert is astounding. It's also home to the UAE's biggest cultural festival every year in December. The annual Awafi Festival is a must for Emirati families, completely free and has everything from music and dancing to camel racing, amazing food, heritage villages and endless kids' entertainment. But, if you miss December, Awafi is almost as good for sensational off-roading and dune-bashing all year round.
Al Marjan: the eco-conscious RAK resort island
Ras Al Khaimah's resort islands stretch out into the blue waters of the Arabian Gulf just to the south of the city. It's hard to believe they're manmade as you gaze out over the sea, sink your toes in the sand or wander around the lush grounds.
But a focus on authenticity, conservation and reflecting local architectural tradition is the reason Al Marjan has won so many international awards. This is where you'll find many of Ras Al Khaimah's best family resort hotels, if you want to examine the outstanding eco-designs in more detail.
Jais Flight: the world's longest zipline is in Ras Al Khaimah
Jais Flight sits at the top of Jebel Jais mountain peak in Ras Al Khaimah, 1,680m above sea level. At 2.83km, it's the world's longest zipline and reaches speeds of up to 150kmph soaring over ragged mountains and deep valleys under vivid blue desert skies.
The entire experience takes just over three minutes, but thrill-loving kids will feel like superheroes for every single second.
Outdoorsy Ras Al Khaimah is great fun for kids
Ras Al Khaimah is a breath taking emirate. Rich green gardens, swathes of mangroves and the blue Arabian Gulf, contrast with desert and mountain drama.
All of this is wonderful to just admire, although it's even better for playing. Golf counts as a sedate pursuit in exciting RAK, where the courses are gorgeous and challenging.
Naturally, the choice of water sports is almost limitless and Ras Al Khaimah is one of the finest emirates for snorkelling and diving. If spectating is your thing, you can see everything here from camel racing to go-karting. However, as we said earlier, the biggest thrills are in the Hajar Mountains so head there for rock-climbing, hikes, treks and ziplining.
Al Wadi Equestrian Center at The Ritz-Carlton Ras Al Khaimah 

Horse riding on the desert is another once-in-a-lifetime experience Ras Al Khaimah does effortlessly. Al Wadi Equestrian Center is only half-an-hour from the coast and perfect for novices, children and experienced riders. There are several guided routes or you can go it alone, magnificence comes as standard, either way.
RAK is the emirate for authentic culture and heritage
Ras Al-Khaimah was built on pearls and today families can still go sailing aboard historic boats from Suwaidi Pearls Farm in the village of Al Rams to the north of RAK.
Dedicated to preserving the ancient traditions of the pearl fishing industry, the farm is the only one of its kind in RAK. Older kids will love the guided tour, not least for its tales of diver daring. And don't miss the gift shop before you leave, the pearls on sale are exquisite.
Learn falconry at Banyan Tree Al Wadi
The ancient art of falconry is a noble Arab tradition that's kept alive and well in Ras Al Kaimah.
For astonishing demonstration of skill and prowess, Banyan Tree Al Wadi falconry demonstrations are incredible. Bold kids can even try their hand at the basics with some of the world's most fearsome birds of prey – under the watchful eye of experts, of course.
Explore ancient history in Ras Al-Khaimah Old City
You can see the imposing minarets of Sheikh Zayed Mosque all over Ras Al-Khaimah, but to get up close takes a visit to Al Dhait North, the city's evocative historic quarter.
The National Museum is also here but the main attraction are the district's bustling souks, where even a novice shopper can find treasure. This is also one of the best areas to stroll along the pretty corniche and watch creek traffic as well as traditional river boats.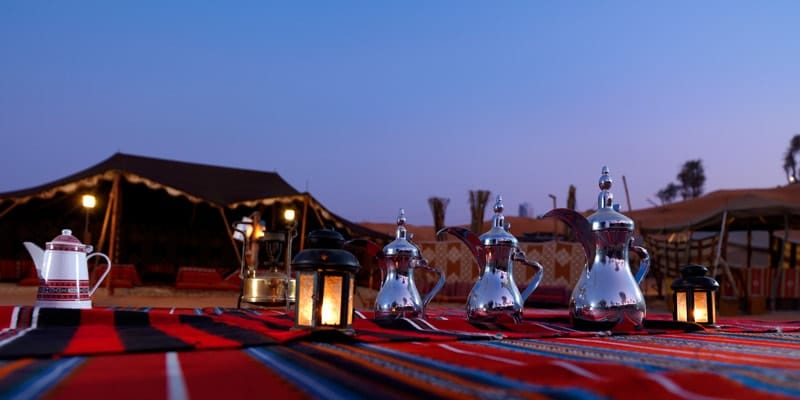 Spend a night under the stars at a desert camp 
Living heritage is one of Ras Al Khaimah's specialities and there's no better experience than a night spent under the stars.
If you want to try this memorable evening, Bassata Desert Camp offer the Arabian Nights' experience which comes complete with grand Bedouin tents where guests lounge around on plump, silk cushions and feast like kings on beautifully prepared local dishes.
Entertainment covers the entire Middle East spectrum from belly dancing to whirling tanoura – even the youngest guests are welcome to join in.
Alternatively you can opt for Bedouin Oasis, delightfully authentic as it is, this place has its feet firmly in the 21st century, with private bathrooms and air conditioning for visitors who want to extend the evening into a night under the stars.
This article contains affiliate links. We may earn commission when you click on them. This does not influence our editorial standards. We only recommend products and services we believe will enhance your family travel experience.