While the desert may seem as though it is no more than just a barren landscape, it is full of adventure, mystery and tradition. From camel treks and fire shows to belly dancing and meals under the stars, activities in the desert are endless and visitors can only come away in awe from what is guaranteed to be an vivid and unforgettable experience for everyone.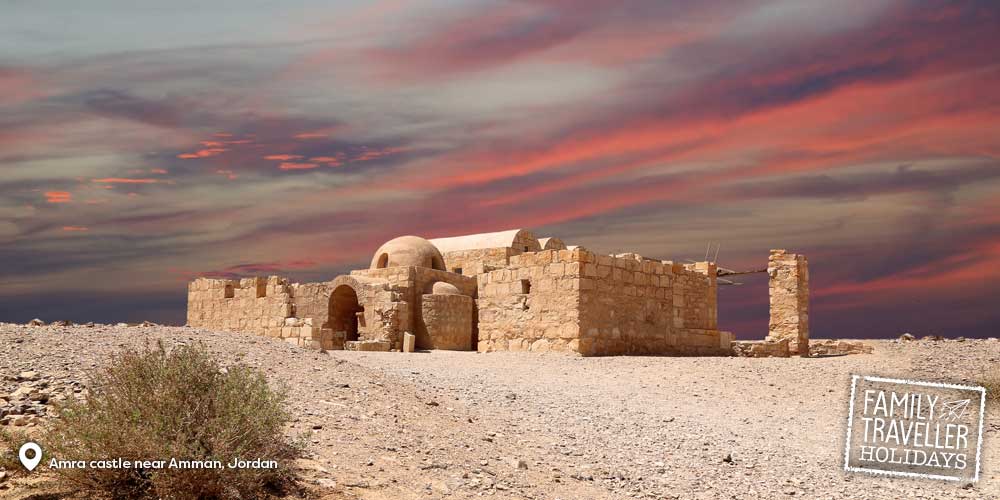 1/5

Discover Jordan's desert castles

For centuries, visitors have flocked to Jordan, drawn by its mysterious desert landscapes, ancient architecture and warm native population. Compared with its neighbours it's relatively untouched; however its vast collection of beaches, castles and churches, added to the fact that it is one of the region's safest destinations, makes it a great choice for families, whether with little ones or teens. What's more, a stay in the Amman West Hotel means the perfect balance between residing in a quiet neighbourhood, that's close to all the action in the city centre.

During your stay, you and your entourage can enjoy a desert castles tour, the first stop being the renowned Al Kharraneh Castle (Qasr Al-Kharanah). Believed to have been built sometime before the early 8th century AD, it is one of the earliest examples of Islamic architecture in the region. From there you will visit the UNESCO World Heritage site of Amra Castle (Qasr Amra), the best-known of Jordan's desert castles, before arriving at the stunning Al Azraq Castle (Qasr Azraq). Built using the local black basalt, its square structure is accompanied by 80 metre-long walls that surround a large courtyard housing a small mosque. You will even have the opportunity to discover the remains of a Roman board game that have been carved into a pavement.
What's included?
7-night room only hotel stay at Amman West Hotel

★★★★

May half term 2020
Return flights from London Heathrow
Hand & hold baggage (allowance varies by airline), plus return private transfers
Desert Castles Tour included
Price: £2,899 for a family of four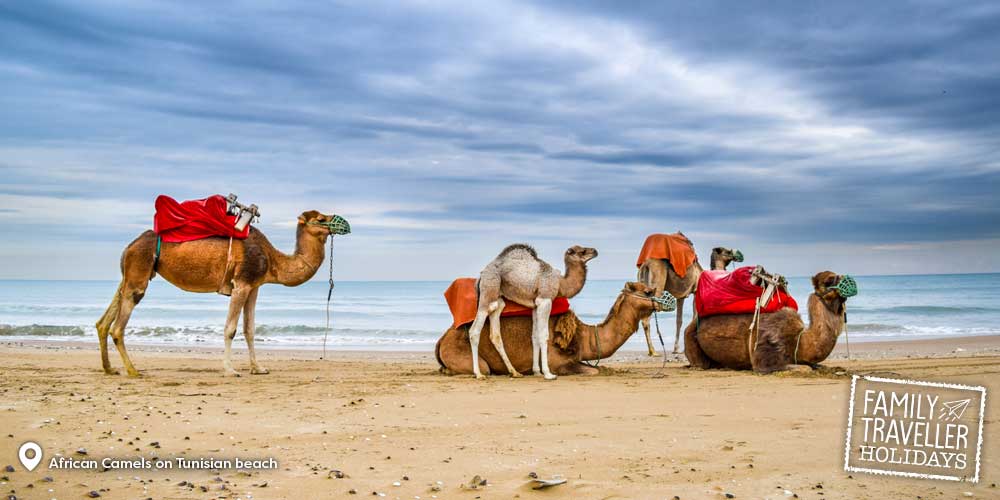 2/5

All-inclusive camel adventure in Tunisia

Tunisia is a unique destination packed full of cultural experiences suitable for families of all ages. Located between the warm waters of the Mediterranean Sea and the stark landscape of the Sahara Desert, the north African country offers a destination bursting with adventure and intrigue. Imagine yourself as Lawrence of Arabia as you take in the stunning scenery on board the nation's most traditional form of transport, the camel.

Located in the centre of the most famous seaside resort in Tunisia, Riviera Hotel Port El Kantaoui boasts breathtaking views of the Mediterranean coast and delivers impeccable service from staff that are friendly, genuine and eager to lend a hand when needed. Their family suites are spacious, while activities are plentiful, making it the ideal choice for a memorable family holiday to the desert.
What's included?
7-night all-inclusive hotel stay at Riviera Hotel Port El Kantaoui

★★★★

May half term 2020
Return flights from London Gatwick
Hand & hold baggage (allowance varies by airline), plus return private transfers
Camel Caravan Excursion included
Price: £2,599 for a family of four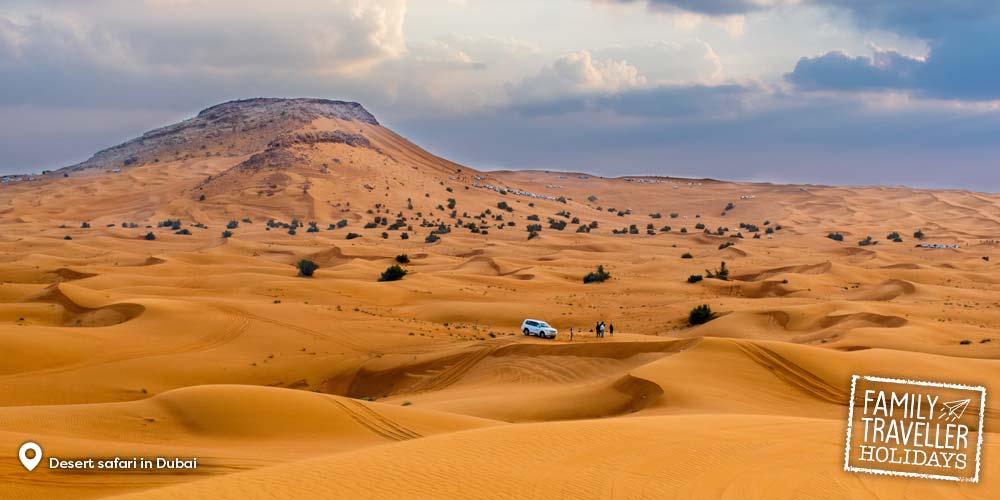 3/5

Experience luxury Dubai and a desert safari

Atlantis The Palm is one of the Dubai's finest family resorts. Set out in the style of an iconic castle-like building sits in the centre of The Palm, and is filled with many attractions, award-winning restaurants, bars and nightclubs, spas and sporting facilities. Enjoy an amazing desert experience with a desert safari, dune bashing and BBQ in a premium desert camp. Experience the thrill of an exciting drive through the desert in a specially designed 4×4 vehicle while you marvel at the mesmerising sunset before an evening of entertainment in a traditional camp, where you are welcomed with traditional Arabic tea and coffee, dates and soft drinks.

Immerse yourself in the culture by dressing up in traditional attire and watch as a Henna artist paints intricate designs on your hand. The whole family will be mesmerised by the Tanoura show (a customary folk dance), fire show and belly dancer. After the show you will be treated to a BBQ including starters, salads, pasta, vegetarian dishes, chicken and lamb. Soft drinks and traditional Arabic desserts are also provided.
What's included?
5-night half board hotel stay at Atlantis The Palm

★★★★★

May half term 2020
Return flights from London Heathrow
Hand & hold baggage, plus return private transfers, in-flight meals and a FREE half board upgrade
Desert safari, dune bashing and BBQ in a premium desert camp included
Price: £4,399 for a family of four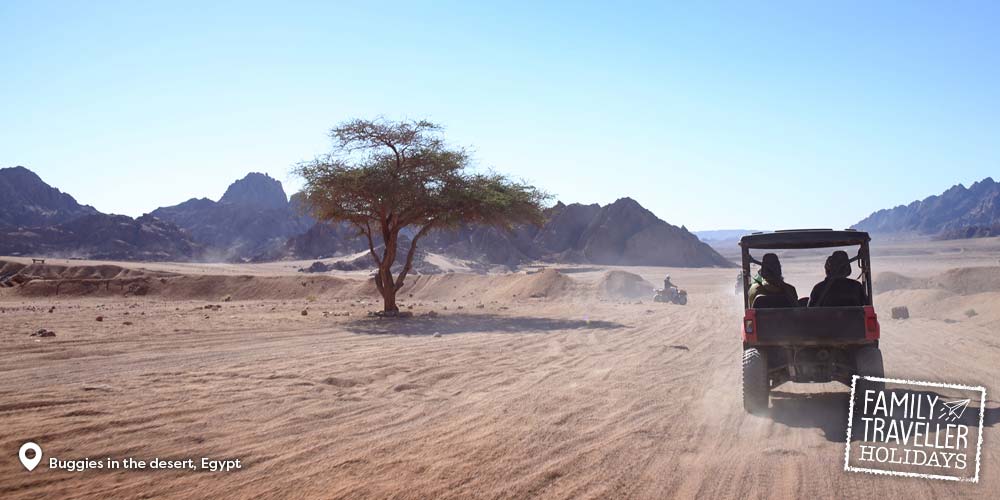 4/5

All-inclusive Egypt escape with safari excursion

Sharm El-Sheikh may be well known for its coral reefs and Ras Mohammed National Park, however it is also surrounded by miles of arid desert, providing anyone who lucky enough to visit with a true sense of adventure. Hilton Sharks Bay Resort resides on Egypt's Sinai Peninsula, conveniently located just three miles away from Sharm el-Sheikh International Airport. The hotel's exceptional facilities mean that in between exhilarating activities, guests can swim in one of the seven pools or simply relax on the private beach.

Included in this unmissable holiday is a quad biking 4×4 safari adventure. Ride across the Egyptian desert on a quad bike as you explore crags and dunes on a fantastic excursion suitable for the whole family to enjoy. During your two-hour ride, you will have two breaks; the first to discover the Echo Valley, and the second to quench your thirst in a traditional Bedouin tent.
What's included?
7-night all-inclusive hotel stay at Hilton Sharks Bay Resort

★★★★

February half term 2020
Return flights from London Gatwick
Hand & hold baggage (allowance varies by airline), plus return shared transfers
Quad biking 4 x 4 safari adventure included
Price: £3,599 for a family of four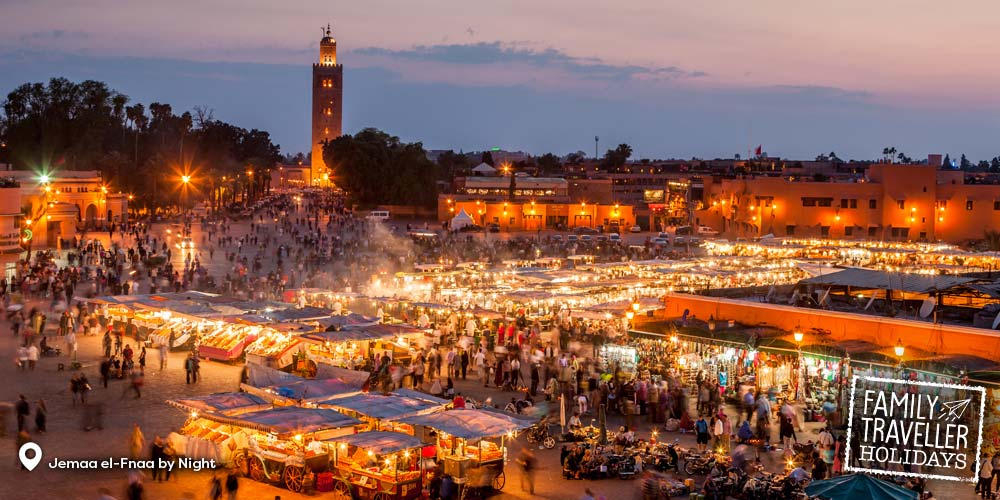 5/5

Luxury half term Moroccan getaway under the stars

Marrakech is a popular tourist city found in Morocco and is famous for the herbs and spices that give the local food its unique and delectable flavours. This medieval city will make visitors feel as though they have travelled back in time, discovering the true secrets of Moroccan culture. Relax in wide-open, sun-filled spaces, charming courtyards and refreshing swimming pools at The Four Seasons Resort.

You will also have the chance to experience the Dinner and Fantasia Show. Under the stars, the whole family will be dazzled by a spectacular showcase of Morocco's rich culture. The evening begins with a feast of soup, couscous, various meats, fruits and pastas, accompanied by the sound of traditional Moroccan music and a chorus of local girls and boys. In the heart of Marrakech's ancient palm grove, you will take your seats under giant caidal tents to witness a spectacle of performances as elegant belly dancers follow horseback riders performing feats of great skill. Next the famous Fantasia, acrobats on Arabian horses, will delight viewers of all ages.
What's included?
5-night room only hotel stay at The Four Seasons Resort Marrakech

★★★★★

February half term 2020
Return flights from London Stansted
Hand baggage (allowance varies by airline), 2 x 15kg hold baggage, plus return private transfers
Dinner and Fantasia Show included
Price: £5,799 for a family of four