TAKE THE PLUNGE
Taking your first breath underwater is a moment no-one forgets. Sinking slowly beneath the surface, a whole new realm to explore is revealed. You'll find yourself gliding side by side with marine life you've only dreamed of seeing, and discovering underwater surroundings including hard corals, kelp forests, pinnacles and more. Diving not only opens your world to new experiences, it also opens your mind, teaching you about the wonders of the ocean, and has been an inspiration for millions of ocean advocates the world over.
This sport isn't just for thrill seekers. Learning to dive is very attainable for almost anyone, including children as young as eight. So why not get the whole family involved in the bubble-blowing experience?
Imagine your next family holiday, filled with explorations of wondrous wrecks, the discovery of unique creatures, or playful encounters with more familiar species – diving with seals is a magical experience, and one the kids will love!
Your family ticket to this underwater world is the PADI Open Water Diver course, or Junior Open Water Diver course. This is the world's most popular and widely recognised scuba-diving certification.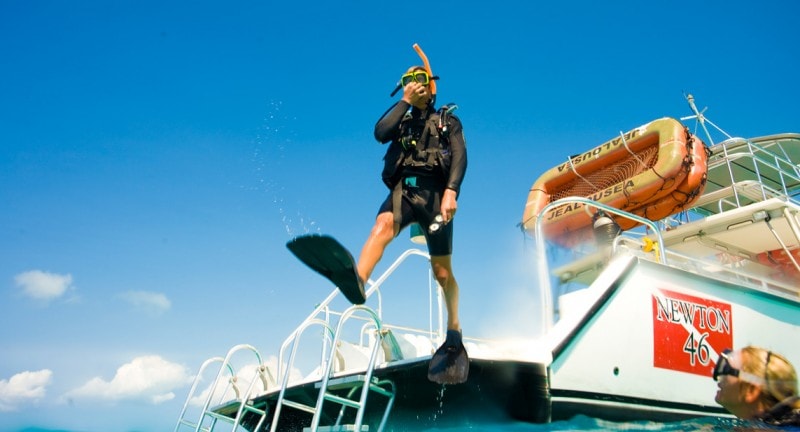 What's involved?
A PADI professional will guide you through three learning phases: knowledge development, confined-water dives, then open-water dives. What's more, the knowledge development can be done in the comfort of your own home and at your own schedule with either PADI's eLearning system or PADI Touch Products.
PADI courses are run and held to diving's highest standards, and backed up by a top-quality management system, meaning diver safety is inherently integrated into every aspect of PADI programmes.
Want to be inspired?
Here are some of the hottest UK dive spots that the whole family won't want to miss.
Stunning Coastline
The UK and Ireland boast incredibly varied and beautiful coastlines. Whether it's offshore islands, vast fjords or beaches fringed with kelp forests, there is so much to explore, both 'topside' and below the surface. A trip to Cornwall doesn't just mean picturesque villages and family surf outings – it can also include thrilling shore diving, and the chance to encounter pods of dolphins and basking sharks. Heading to the Farne Islands off the east cost of the English/Scottish border, by contrast, will see you sharing the ocean with grey seals, and during your surface interval exploring rocky islands where numerous seabirds nest. The Irish coastline is something to behold, and Killary Harbour offers a fix of fjord as well as fun dives.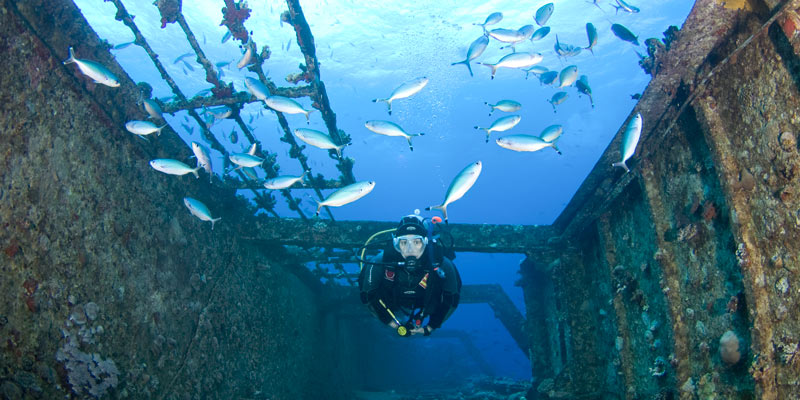 Historical Wrecks
With one of the richest histories of treacherous sea voyages and sea battles, the waters around the UK have produced some of the world's most exciting wreck dives. The English Channel alone is a vessel graveyard, while Scapa Flow, in Scotland, is home to the scuttled WWI German fleet, and now a haven to an abundance of marine life. There is a wealth of history waiting to uncovered.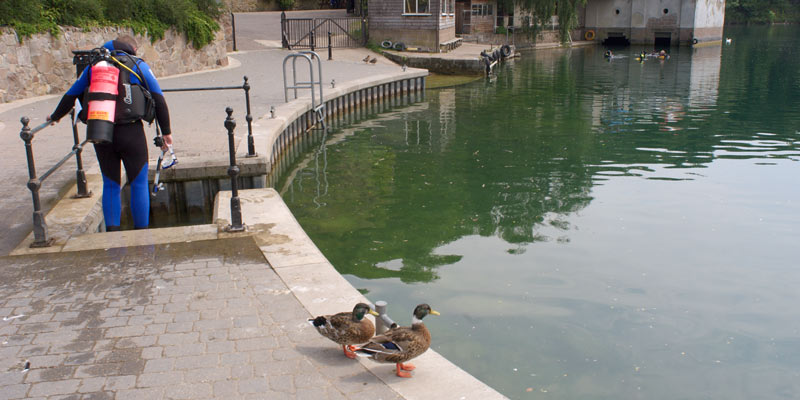 Inland Scuba
One of the most popular spots for diving in the UK started its days as a mere quarry. Now, you can find submerged aircraft, a bus, tug boat, an old car, and even, rumour has it, Stoney Cove's very own 'Nessie' at the Leicestershire site.
Your first step to getting the whole family involved in learning to dive is to find your nearest PADI Dive Shop. There are more than 6,300 PADI Dive Centre and Resorts worldwide, guaranteeing you'll find a shop near you. You can either choose to get certified at home before going on holiday, or learn once you're abroad.