Family rail holidays are very much the slow-travel mood for 2022. Amanda Hyde recently ditched the plane in favour of the train on four incredible family focused rail adventures from Cornwall to Catalonia. Take a look.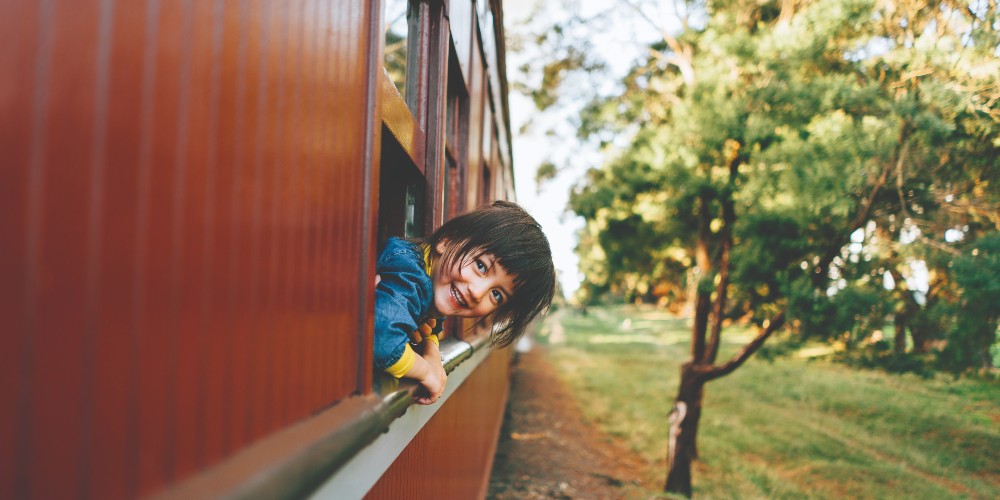 Paddington to Penzance: Cornwall family rail holidays are a sleeper hit
Driving to Cornwall is notoriously slow and tortuous, especially once you've left the motorway and switched to idling, single-lane traffic.
The Night Riviera Sleeper, which stops at London Paddington or Reading, is a far more civilised way to start a Cornish holiday (if in doubt, just factor in the onboard toilets versus the endless loo stops of the alternative).
While two-berth cabins mean families may have to split up for bedtime (and the 10.45pm boarding time from London Paddington is punishing), beds with snuggly duvets and crisp sheets make for a surprisingly good night. Light sleepers may be in for an early start, though: from just after 4am, the train makes increasingly regular stops as it wends its way along the final section of track between Exeter and Penzance.
By the penultimate station of St Erth, the vistas begin shouting of the holiday to come as the train trundles through hazy countryside before revealing straight-from-a-storybook views of St Michael's Mount.

Penzance is perfect for exploring Cornwall with kids
Penzance is an increasingly popular base for family holidays in Cornwall. Kids love the town's pebbly beach and mile-long promenade and there's the added bonus of the regular Land's End Coaster service. These open-top buses are great fun and link Penzance to the artsy village of St Ives and dramatic Porthcurno Bay – home to the open-air Minack Theatre, as well as the old market town of Marazion – across the walkable causeway from St Michael's Mount.
Penzance station is only five minute walk to Artist Residence Penzance. This family-friendly boutique hotel has rooms for up to four guests – think about booking the new Sail Loft with its cottage-core décor, copper bath tub and fun single bedroom featuring tiger cushions and bright blankets.
Around town, take a boat trip to spot dolphin, porpoise and minke whales. Go for a swim in the Art Deco lido which is always around four degrees warmer than the chilly sea. And, for a child-friendly Sunday roast, make for the much-lauded Mexico Inn. This atmospheric old fishermen's haunt does pub grub exceedingly well. Save room for the scrumptious dark chocolate and peanut tart.
Time on the train is eight hours and 15 minutes from London Paddington to Penzance.
Disneyland Paris: family rail holidays with theme park thrills
The direct Eurostar from St Pancras International to Disneyland Paris makes this one of the quickest, easiest family rail holidays this year.
What it lacks in scenic beauty – the countryside on both sides of the Channel is scruffy and forgettable – it compensates for in convenience. You can even leave your luggage at the station and have it delivered if you're staying at one of the Disneyland Paris hotels.

Disneyland Paris is great for novice theme park goers
Disneyland Paris offers a bite-size chunk of Mickey magic that's easily explorable over a few days. But choosing the right hotel is paramount.
If your children are all-action types, pack in maximum park time by staying 30 seconds from the gates at the ostentatiously grand Disneyland Hotel. It's currently mid Princess-themed makeover and promises to be more gilded than ever on reopening.
For easily over-stimulated children, the excellent Villages Nature is 20 minutes by bus from Marne-la-Vallée and a good place to decompress. It's a Center Parcs-run resort surrounded by forest and calming attractions include a farm, sandy lakeside beach and island play area.
Once settled, you'll need at least a day for each of the two parks: Disneyland Park and Walt Disney Studios Park. But if you plan to do the big-name attractions, it's probably worth splashing out on Disney's new Premier Access tickets. These allow you to skip queues for rides like adrenalin-fuelled Big Thunder Mountain and Buzz Lightyear's Laser Blast.
Hot Wheels fanatics should make time for the Lights, Motor, Action! Extreme Stunt Show. And teens can expect a proper scare from the stomach-churning Twilight Zone Tower of Terror.
Book restaurants before you arrive to avoid queues. Ratatouille-themed Bistrot Chez Rémy is a delightful pastiche of a Parisian bistro as seen through a rat's eyes. It serves up classics such as steak-frites and roast seabass, although prices can be eye-wateringly expensive.
Time on the train is two hours and 50 minutes from London.
Planning family rail holidays to France? Take a look at more hotels near Disneyland Paris
London to Barcelona: scenic family rail holidays in Catalonia
Catalonia is a surprisingly easy for family rail holidays, thanks to the high-speed TGV link which whizzes travellers between Paris and Barcelona in around six and a half hours.
Break up the journey with a night in the French capital. Then watch your kids grow wide-eyed at the sight of the double-decker TGV train at the Gare de Lyon. Grab a seat upstairs for the best views and maximum excitement.
Despite the scenery, this journey may test some kids' patience. So it's worth pre-making tick sheets for a game of sight-spotting en route. This will allow you time to admire the sun-glazed villages and crumbling castles of the Rhône Valley; marvel at the vineyards and salt flats of the Languedoc – where you might spot a flamingo; check out the snow-tipped peaks of the Pyrenees, and finally, fall in love with the golden fields of Catalan's countryside.
If no-tech fun fails to placate kids, they'll find power sockets by every seat for screen time. Or you could try a trip to the buffet car in search of sandwiches, croque monsieur and pasta.

Brilliant Barcelona and all the charm of seaside Sitges
Thanks to its commuting seaside-dwellers, the stretch of coast around Barcelona is fairly well served by trains.
Just 20-minutes from the city, the lively resort of Sitges has enough to keep everyone occupied for a week. Family friendly Hotel Calipolis is a good base for the town's 17 beaches and an old quarter packed with restaurants and shops, as well as bike, boat and kayak hire.
The main beach is good for a few days' play, especially if you visit in sleepy half-term rather than high season. Here, the lengthy stretch of sand comes backed by cute chiringuitos. Don't miss tapas at El Chiringuito, the beach bar which claims to have coined the name when it opened back in 1913.
Time on the train is nine hours from London, including the Eurostar to Paris and TGV onwards to Barcelona.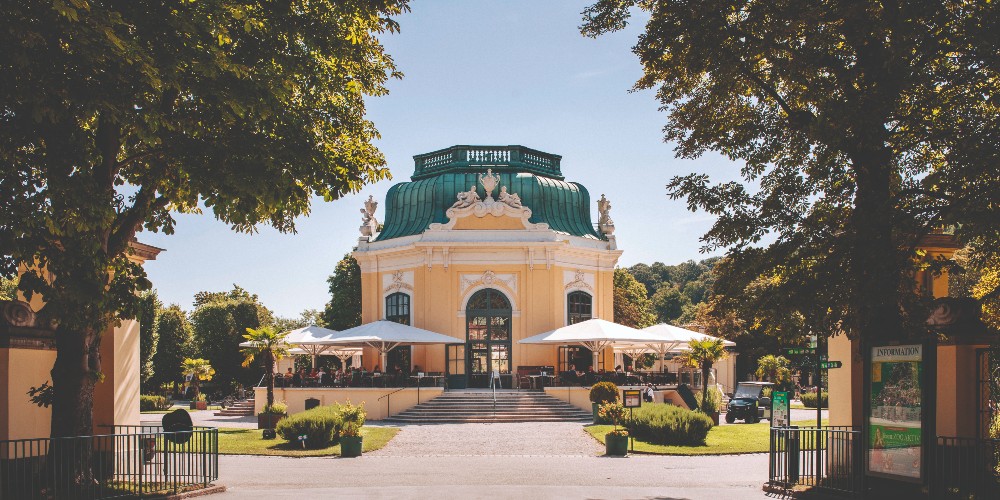 London to Vienna: new Nightjet journeys for urban adventurers
The journey is half the fun on this train-hopping trip, which travels across Europe on the new Nightjet sleeper service from Paris to Vienna.
Once you've done the Eurostar and the taxi-shuffle through Paris to the Gare de l'Est, it's a leisurely 12-hour journey onwards in a comfy private cabin. My advice is to book a deluxe compartment for an en-suite shower, although the tiny bathrooms are hard to navigate if you're trying to bathe a toddler.
Unlike many sleeper services, Nightjet leaves at a very civilised 8pm and has the added bonus of breakfast served in your cabin.
The route cuts across Germany through the night then pitstops in Salzburg just as day breaks, before trundling through tidy Austrian countryside towards Vienna.

Sunny Vienna is a fun family city break this summer
Vienna in summer is an unexpected treat. The leafy city comes alive with a family-friendly mix of Danube-side swimming baths, forested parks and interesting museums.
From May onwards, the city's biggest buzz is found at its open-air pools. Try the much-loved Strandbad Gänsehäufel, on an island in the middle of the river. Complete with toddler pool, waterslides and a smattering of snack bars, it's a good place to while away time in the sunshine. Make sure you grab an ice cream from Cafe Eiszeit.
You'll find Viennese museums to suit even the most exhibition-averse kids. Don't miss ZOOM Children's Museum, where they can create wood sculptures and make animation. Then visit the city's famed Butterfly House to see over 400 species fluttering about in Art Nouveau splendour at the Hofburg Royal Palace.
Leave time for Vienna's leafier attractions. Expansive Prater park is the place to watch rollerbladers whizzing and carriages trundling. Hire a four-person bicycle buggy here to pedal around the wiggling paths. Take a picnic and find a spot in one of the park's quiet meadows. Or visit the famous Prater fairground with its 200-year-old Ferris wheel.